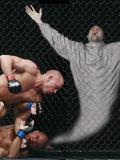 Birthdate: Dec 30, 1978
Class: NA
Home: Aylmer
Position: F
Height: 5-10
Weight: 170


Bio:
--I have a question for you real quick. What did you think of my demo? Did you get it?
--I was gonna listen to that, but then, um, I just carried on living my life.