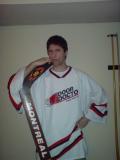 Birthdate: Nov 10, 1987
Class: NA
Home: Nepean, Ontario
Position: G
Height: 6-4
Weight: 195

Bio:
After starting of his athletic career playing ringette, Jake Ross has made the jump up to the game of hockey. Last season he backstopped the East Ottawa Thunder Junior 'C' to a successful regular season of a 28-5-1 with a with a league leading 2.90 GAA with goaltenders over 1000 mins.

Likes- long walks on the beach, candle-lit dinners, pogs, marbles, Jr. C championships, and the smell of mountain dew in the morning (pun suggested).

Dislikes- waking up in own vomit, being sniped on top cheese, swamp donkeys, being sniped on five-hole, goalies with player helmets, Peter Sidorkiewicz, goalies who catch with their right hand, old dusters who take beer league too seriously, cottage cheese legs, socks with sandals.