1.) Stats Corrections
---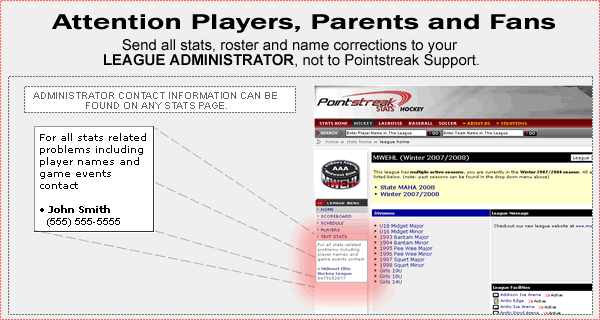 2.) Sales
---
For sales or sales-related inquiries, please visit www.pointstreaksolutions.com or call our toll-free sales inquiry line at 1-866-407-7253.



3.) Advertising
---
For advertising inquiries, please
click here
.
4.) Customer Support
---
Visit Pointstreak's
online support resource center
for immediate assistance.
Note:
League Administrators
and
Scorekeepers
are permitted to call Pointstreak's 24 hour toll-free support line for urgent assistance: 1-866-892-0777 (direct 604-734-3585).

5.) Investor Relations
---
For investor related inquiries please send us an email
investorrelations@pointstreak.com
.
6.) General Inquires
---
Contact Pointstreak directly via email, phone or mail:
Email: info@pointstreak.com
Sales Phone: 1-866-407-7253
Support Phone: 1-866-892-0777
Technology & Operations
400 – 999 West Broadway Avenue
Vancouver, BC
Canada
V5Z 1K5


Business Development
Direct: 905.731.9867
50 Minthorn Blvd., Suite 400
Thornhill, Ontario
L3T 7X8