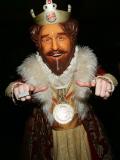 Birthdate: Feb 18, 1984
Class: Other
Home: Oral, Kazakhstan
Position: LW
Height: 5-10
Weight: 175


Bio:
This King of diamonds was claimed off re-entry waivers during the off season. Favourite TV shows include: Debbie Does Dallas, Hanna Montana the preteenquel and Chipendales after hours. Favourite food: Hot Dogs, Churo and Cigarettes. Lives for candle lit dinner with his new found hockey team.