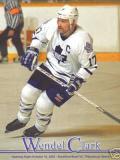 Birthdate: Oct 25, 1966
Class: NA
Home: Kelvington, Sask
Position: F
Height: 5-11
Weight: 197


Bio:
Wendel Clark was born on October 25, 1966 in Kelvington, Saskatchewan. Growing up on the prairies meant that Wendel played hockey in the winter and helped out his folks on the farm during the summers. He had a prolific career with the Saskatoon Blades of the Western Hockey League (WHL), excelling in scoring goals and taking care of himself on the ice. He was selected first overall in the 1985 NHL entry draft by the Toronto Maple Leafs. Wendel made a seamless transistion to the big league, scoring 45 points in his rookie season to go along with 227 penalty minutes.